< Back to Latest News
The Essential Steps For Building Your Perfect Patio
June 5, 2020
Our gardens can often be taken for granted but this shouldn't be the case, so if you tend to neglect yours, you should understand the mounting potential for it! There are plenty of features and design opportunities to suit any garden space – the key is to decide what's best for your requirements along with what you prefer.
In hard landscaping, you have an array of options to create lovely additions to your space, which brings us to patio areas. Patios are widely considered to be the focal point of many gardens, which is why they should be carefully planned. Planning is essential to achieve your desired finished look, so we've outlined some of the most important considerations for you below.
When planning a patio build, you should consider:
Your objective
What is your main aim for constructing your patio? There are a number of reasons why homeowners choose to have one, with some including to increase the value of their home or have a great place for family and friends to chill out in. Some homeowners decide to have a patio in their garden to bring a new lease of life to their outdoor space. Whatever the main factors for you are, just ensure you outline your aims for carrying out the transformation.
The position
Where you want your patio to be in your garden is also another important consideration to make. For example, if you hope to have your patio in your backyard, it's best to position it in an area where the sun will catch it during the day. Knowing this and what time you'll most likely use the area, will help to determine the best place. It's also good to keep in mind if there are any unsightly views which could potentially undermine your patio area, or on the contrary if there are any views you'd most like to enjoy when sitting in that position.
The size
This is an obvious consideration to make for your patio project. How many people live with you? Two, three or do you have a larger family? If you want to make a lovely space for a large number of people to relax in, a large patio area would be the better choice. Just remember to have enough space spare for your furniture and maybe a BBQ if you fancy too!
Levels
When looking at your garden space, is it flat or are there varying levels? In the case yours has varying levels, split level patios could work well as they create a nice variation of space for planting arrangements. Typically with flat areas, patios are easier to design and construct so bear in mind there potentially will be extra costs for builds on uneven ground.
Style
Deciding which style of patio you want for your garden is the most pleasurable stage of the process. Landscapers can provide you with their recommendations for this, but ultimately it's down to you whether you want something more traditional or contemporary. It's best to think about which sort of style would best suit your home. If you need some inspiration for deciding whether you'd like a circular patio, whether you'd choose a grid one or how you want your edging, check out some of our past projects here.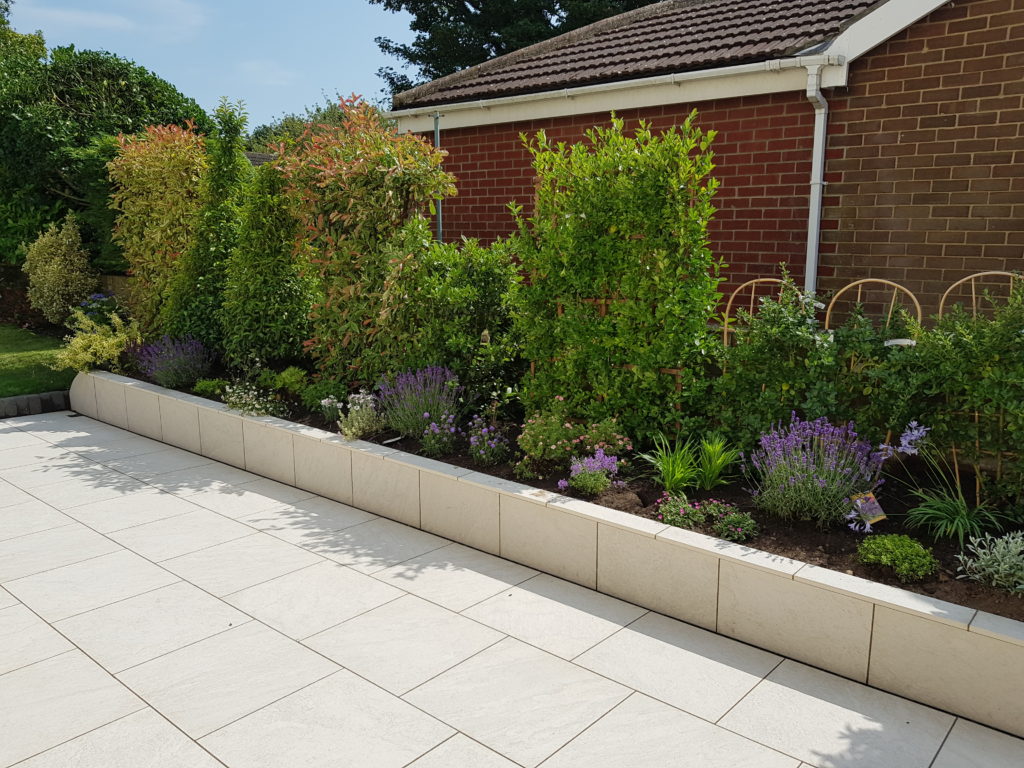 Materials
The great thing about having your own patio area is the array of paving choices available. Depending on what you like, there's a range of colours in styles such as traditional weathered stone or contemporary porcelain paving. Check out some of our projects here if you aren't sure what would best suit.
Practicalities
Patios can be simply constructed, but if your grounds are prone to flooding it might be a good idea to consider some drainage options. Thankfully, there are a few different drainage types available with most being quite subtle. Additionally, will you want any garden lighting installed? What about any specialist access for things like wheelchairs? These are the things you'll need to be thinking about in advance for a smooth installation.
If you find you need a hand with any of the above stages, we are more than happy to guide you through each step of the process. Feel free to give us a call or drop us an email for more information!