< Back to Latest News
What's better for my garden design: a decking area or a patio?
July 29, 2020
If you have a garden space of your own, you'll most certainly understand the blissful feeling it brings. A combination of hard and soft landscaping ultimately creates a beautiful garden design, and the possibilities are endless. Even though there are so many elements of your garden to think about, we're going to be focusing on two of the most popular design features which are heavily favoured during the Summer months: decking areas and stunning patios.
If you're in the middle of deciding on whether to have a patio or decking area built in your garden, there's an array of considerations to make. Depending on the size, style and levels of your garden, as well as budget, you may be able to narrow down these factors. With any landscaping project, these are common things to consider, however we're going to cover some of the material and type options you can choose when it comes to the construction of either your decking or patio.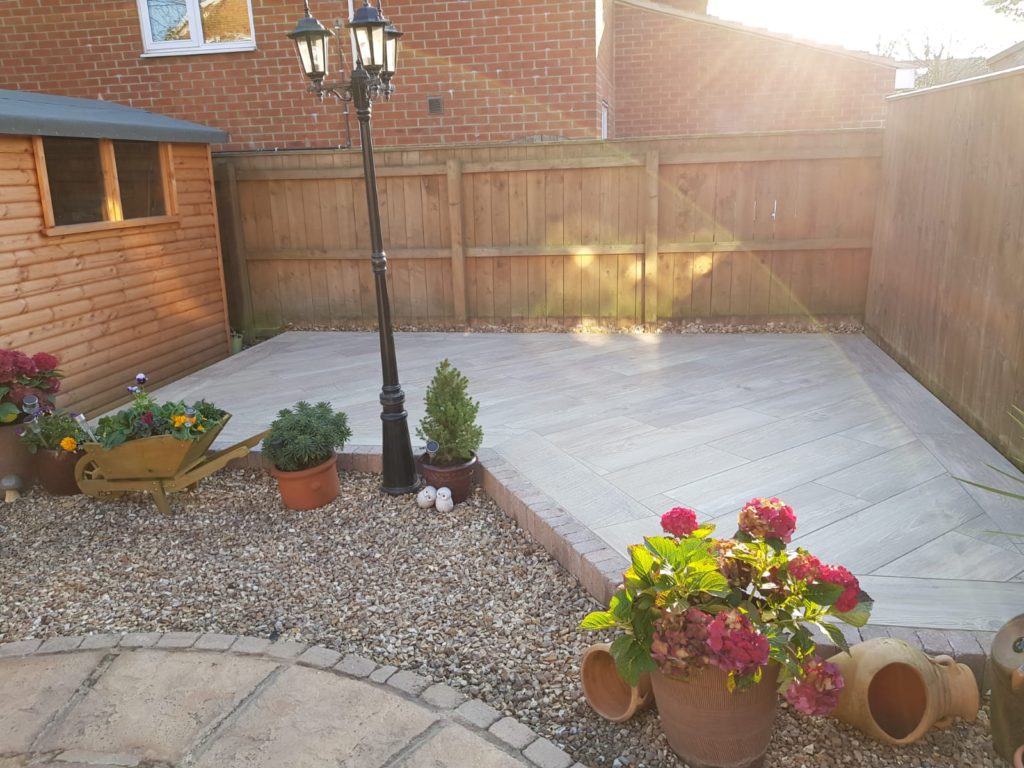 Patios For Garden Design
The patio is an ideal feature for a wide variety of garden designs, and works best for those who are wanting to define their garden whilst having a beautiful area to relax and entertain in. In the Summer, homeowners can take advantage of this for small get-togethers and BBQs. If you're someone who's wanting to overhaul the way their garden looks and is structured, a patio is a wonderful outdoor addition for any garden style. With this, there are also many different kinds of paving to opt for.
Paving Options
Natural sandstone paving
A subtle paving that blends in beautifully into any landscape and comes in a range of colours.
Centurion paving
This is great for contemporary styles, durability and colour options.
Honey grey natural limestone paving
A hard wearing slab, known for its classic, timeless look.
Natural slate paving
Natural slate is unique, as it comes in a range of textures and shades.
Porcelain
Porcelain offers exceptional strength and durability and has one of the greatest visual appeals. Typically, this is the most popular choice among landscaping builds. Check out this two colour porcelain paved patio for a better idea as to how it can work for your garden.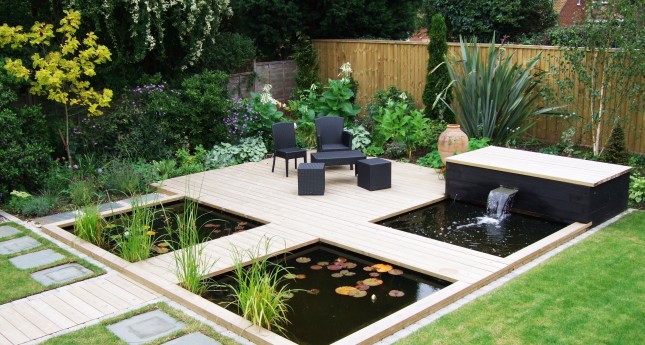 Decking
When it comes to decking, the choice is yours. You can be as creative as you like with decking boards, as they're made of a flexible material which can surround a number of features in outdoor spaces. Some great examples include a classic raised corner or decking surrounded by water. These are just a couple of ways to best make use of it for your landscape design. Again, this hard landscape feature is great for sitting outside and enjoying full use of your garden furniture.
Some more options
Circular decking
This is an easy way to maximise space, bearing in mind the garden dimensions.
Decked path
For contemporary designs, a decked path can connect different elements of gardens.
Decked outdoor dining area
As already mentioned, to fully enjoy the Summer evenings, having a decked outdoor dining area is a great option.
Water around decking
For leaving great impressions, decking boards incorporated with a water feature has that wow factor.
Decking with floor lighting
Install spotlights into your decking for a great mood booster, and to extend Summer nights.
Trex composite
This is a brilliant eco-friendly alternative, as the material has an innovative blend of 95% reclaimed timber and plastic, which isn't as likely to rot.
The benefits and downfalls
Both of these hardscaping features have their benefits and downfalls. A patio comes in many stunning options to suit every style of property, all the while being ideal to shape as you desire and require. Additionally, paving is known for its lasting effects on gardens, although more construction is involved in it. Whereas, decking is a quicker process to build as there's less ground preparation needed. If you're after something that is more natural looking, decking should be on your list of options. One of the major downsides with decked areas is they tend to not last as long, due to rot and damage that can build over a shorter time.
Ultimately, your desires and requirements as well as what your garden space allows for, will have an impact on what you choose. It's also good to remember that a functional, well-structured garden design means you can construct both if you want!