< Back to Latest News
Flower Inspiration for Winter
December 20, 2020
This year has seen everyone take up new hobbies or have a deep dive into new ones. Gardening is one of Britain's favourite past times, but just because the sun has gone away doesn't mean your fun has to stop. Winter flowers are coming in season and to those new to the green thumb community, there is a whole new world of flowers to explore when it comes to the colder months.
A Flourishing Winter Garden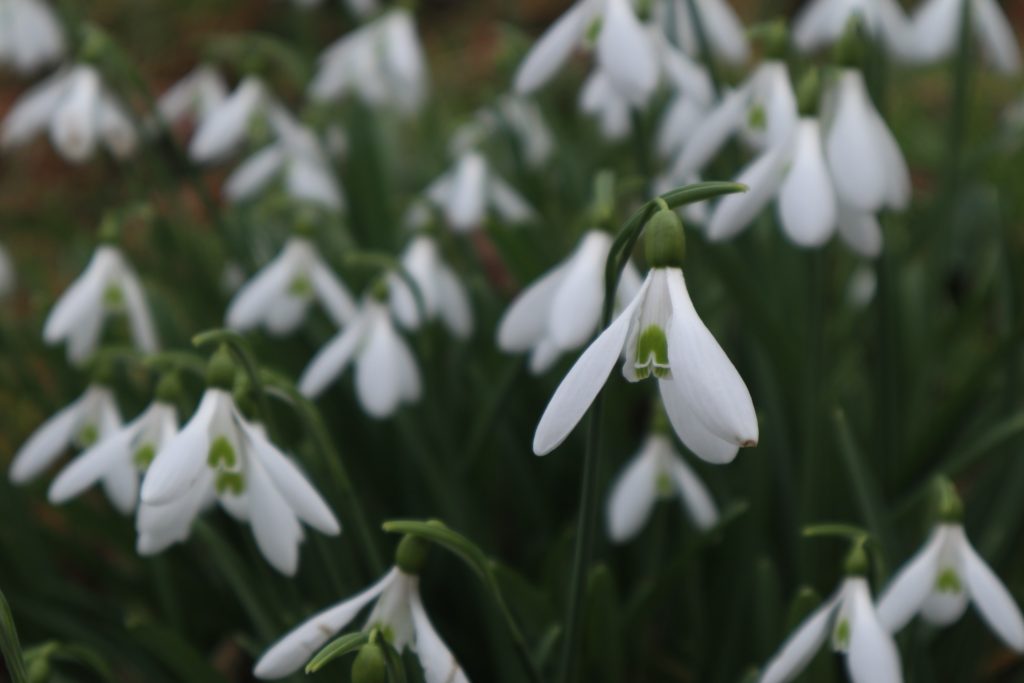 When winter comes, the first stop on the calendar is Christmas. Anyone looking to get into the festive season should create a winter garden with all the colours that comes with the holiday. With this in mind, green and red is the winning combination when it comes to Christmas colours. 
For those frosty mornings, skimmia japonica rubella has a toned down dark red colour, with deep green leaves. The shrub can handle the winter, and flowers in the spring, so it has a place in your garden for a long time. If you're looking for a brighter red to add colour to the garden, skimmia japonica nymans are a brighter alternative. When flowered, the eye catching red of the flower is an optimistic shade, capturing the joy of the holiday.
Adding white to your garden is a must when designing a floral winter wonderland. The Christmas Rose (helleborus niger christmas carol) is a simple and elegant plant, and normally only loses a few leaves over winter, so it retains its majesty and will regrow in the spring time creating an all year round installment in the garden despite its name. The pure white colour of this flower has a 'fresh snow' look to it, however is very subtle that can appear as a versatile white for all seasons.
If you know you won't be able to tend your garden over the coming months, but are still looking to add white to the garden, a skimmia japonica finchy would be recommended. These low maintenance plants grow up to a metre high and have a delicate appearance. This creates a tender and intimate look to the garden.
A Bright Garden for the Winter
You may have got into gardening as a summer time hobby, trying to cultivate an eye catching landscape. If this is the case, you may lose your enthusiasm for gardening in the winter as the brighter exotic flowers struggle in the cold months. There are bright winter flowers for those looking for a less conventional christmas look.
To recommend a prominent piece, which can become a main feature in your garden, you can opt for prunus autumnalis rosea. This light pink tree will make it fit well in any winter garden yet still bring colour to the landscape. To complement the tree, Charles Lamont shrubs spread the essence from the tree around the area, to really create a colourful winter landscape. Viburnum × bodnantense 'Dawn' is heavily scented, adds a toned down pink into your options and is paired well with Eve Price (viburnum tinus). This creates a colourful winter look.
These plants won't limit the style to Christmas and will also have a relevant place in your garden come spring.
There is no reason to neglect your garden this winter. This year has been stressful, so indulge in the nation's favourite pastime. You can still create a masterpiece during the cold weather, there is just a lot more to consider. Christmas themed gardens are popular choices with a selection of white, red and green plantlife available to handle the harsh british weather. Alternatives are available for anyone looking to create an eye catching bright design breathing life into their garden. Roll up your sleeves and get back into your hobby this winter with a wonderful range of winter flowers.